Glide is an easy-to-locate seat belt buckling system design for children with cerebral palsy that uses a funnel to guide the buckle into the slot. Please watch our pitch video below.
Role ― Prototyping Co-Lead
I was in charge of producing the initial low fidelity prototypes ― Looks-, Works-, & Feels- Like prototypes. For our final prototype, we used SolidWorks CAD software to make an accurate model in order to 3D print and laser cut our parts for assembly.
Beyond prototyping, I also conducted user research and observations. My team and I brainstormed design concepts and evaluated them with a decision matrix.
Challenge
Globally, 17 million people have cerebral palsy, a loss or impairment of motor function caused by brain damage. From our research, site visits, and user interviews, we created personas and journey maps to identify pain points of people with cerebral palsy.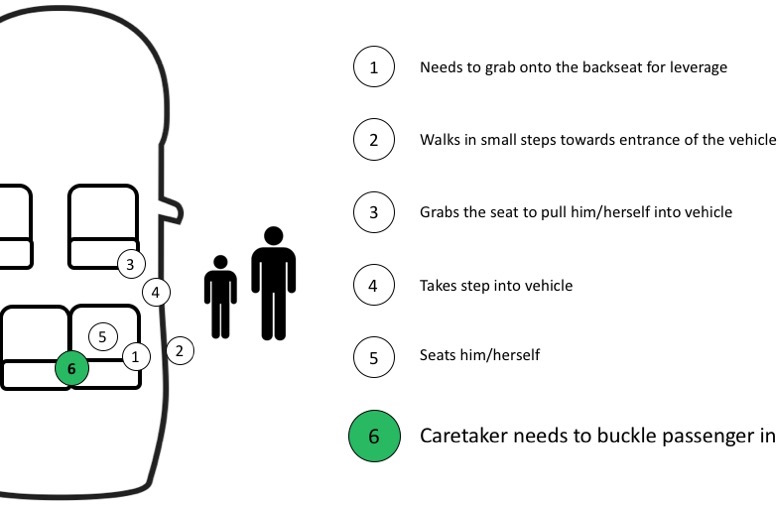 From our journey map, we noticed that people with cerebral palsy, especially children, had trouble buckling themselves in and usually required assistance. From this insight, we developed our problem statement:
How can we enable child passengers with cerebral palsy to buckle their seatbelt?
Solution
We designed a new buckling system called Glide, an easy-to-locate seat belt buckling system that uses a funnel to guide the buckle into the slot.
Design Features
The slot of the buckle is inset into the seat to create a stable and stationary insertion point
The slot has a concave surface that acts as a guide for the buckle
The slot is covered by a push cover to protect from debris
The familiar red "PRESS" button releases the passenger
Building the Functional Prototype
From our final design in SolidWorks, a teammate and I led the design and building of a functional prototype. We used precise manufacturing methods such as laser cutting and 3D printing in order to produce high fidelity parts. We modified a seatbelt buckle we bought in order to salvage the locking mechanism. The prototype was fully functional and reduced the required effort to buckle a passenger in.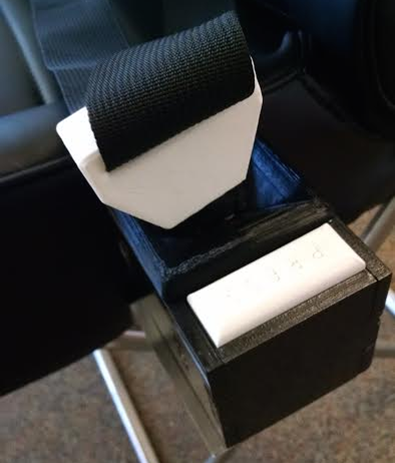 Next Steps
We presented Glide at Fiat Chrysler Automobiles headquarters in December 2014. Fiat Chrysler employees were able use one hand and buckle themselves in without looking, which was amazing to see! Finally, a teammate and I presented at the SAE World Congress in Detroit in April 2015.